Presentation
The Centro de Arte Alcobendas (CAA), which opened on November 16, 2010, is presented as a benchmark for visual arts, music and literature in the Community of Madrid, with a vocation for national and international projection.
The action of the Centro de Arte Alcobendas is structured across several key areas: the program of exhibitions, a stable program of music, a full service of mediatecas, and a network of activities aimed at audiences both children and adults. The centre is also home to the Alcobendas Photography Collection.

The motivation of the Centro de Arte Alcobendas is in favour of public access to contemporary culture and its didactic knowledge, in response to its socio cultural demand, while proposing a participatory dialogue that transcends the local to approach everyone in the northern part of the Community of Madrid and the national level, as an interesting interactive meeting point.

Strategically located, the Centro de Arte Alcobendas is a new building built on the previous Municipal House of Culture and Popular University of Alcobendas. The implementation of the project begins in 2006 and ends with the opening of the centre in January 2011, remaining open to the public and fully operational with all its services.
The building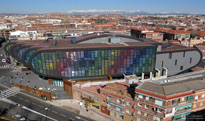 Centro de Arte Alcobendas, designed by architects Fernando Parrilla Villafruela and Maria Isabel Muñoz Parrilla, is a contemporary, unique, iconic, sensualy emerging in the city centre to show their forms. The main access is configured as a square covered by wide overhangs, which, together with the design of facades, in clearglass , invites you to come, listen, watch, participate and learn.
With nine floors and an area of 17,214 m², the building is seen in ascending and free as a sculpture that encompasses the pedestrian areas, and thanks to its colorful facade slats, is shaped as a focus of attention and reference, whether by day, by filtering diffused daylight, or night, as artificial light lamp outside.
As a sustainable building, and equipped with ecological facilities, generates its own power from photovoltaic panels of their windows, and landscaping its deck with a wild topsoil in a skin mode, which, being native, does not need maintenance. Here's a beautiful way of moving the vegetation that would exist in the natural terrain to the roof of the building, thus returning to the nature its belonging space.