YAAKOV ISRAEL
The Quest for the Man on the White Donkey
20 June 2013 - 27 July 2013 Centro de Arte Alcobendas
Curator: Oliva María Rubio

Organized by: PHotoEspaña

In collaboration with: Centro de Arte Alcobendas

Orthodox Judaic tradition holds that the Messiah will arrive riding a white donkey. Yaakov Israel was working near the Dead Sea when, unexpectedly, a Palestinian man on a white donkey passed him by. He took a picture of the man and when he developed the image he realized that he had found his "Messiah." The meeting prompted him to start this project, which merited him the Descubrimientos PHE Award in 2012, exhibition presented at the Czech Centre Prague during the mounth of May.

The North American tradition of great photographic journeys served Yaakov as reference, even though the size of his country turned such journey into an abridged experience. As he passed by the same places time and again, the essence of his photographic project became clear to him. His quest is an attempt to communicate a personal vision of Israeli reality from a wider sense of belonging to the global human community.
YAAKOV ISRAEL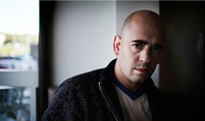 (Jerusalem, 1974). Graduated with honors in Fine Arts from the photography department of the Bezalel Academy of Arts and Design. His work has featured in exhibitions both in Israel and abroad. He teaches photography in art and photography schools. His project, The Quest for the Man in the White Donkey, was published by Schilt Publishing.