Adults
From Educarte we try to bring different artistic styles and periods to all types of people, and train and sensitize people on the interpretation and critical understanding of works and artists. In this section you can learn about the different programs that translates this cultural and educational action.

Guided tours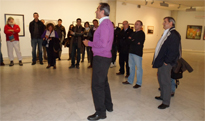 Open to the general public, they are usually performed on Saturday morning. These visits aim to approach the adult public to the Centro de Arte Alcobendas and provide basic tools to analyze works of art as well as to facilitate their understanding. These tours are guided by animators of the Centro de Arte Alcobendas and aim to provide added value to individual visits on their own.
Visits by appointment to groups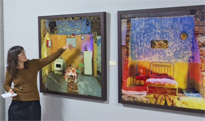 Visits, by animators of the Centro de Arte Alcobendas, intend to be different from conventional tours, doing an interactive journey through dialogue between animators and participants.
Visits try to adapt as much as possible to background group. To develop the right conditions visiting groups should not exceed 25 people.
The estimated duration of the tour is approximately one hour. Visits may be scheduled Monday through Friday during the morning or afternoon, still reservation needed at least 15 days in advance.

Contact
Telephone +34 91 229 49 40
E-mail: centrodearte@aytoalcobendas.org
Workshops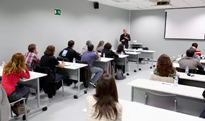 Designed to complement the knowledge and experiences related to different areas of the arts, the workshops aim to form, in practical and / or theoretical way, people interested in starting or delve into topics related to photography, painting, art history...