Children activities
Children's activities are the basis for creating good future users, so, from the Mediatheques are given great importance and are paid special attention. Besides stable activities, presented below, at specific times sporadic activities are made responding to demand and environmental circumstances.
Museum of Tales
This small exhibition of own production takes place in the month of May since 2008 at the Cultural Centre Pablo Iglesias. Its main objective is to bring the stories and traditional storytelling to children. It is complemented by guided tours for kindergarten and the first cycle of primary education.

Family reading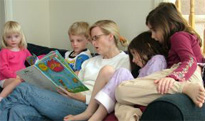 It aims to promote reading in the family and advise on how to read, what to read and when to read, ie, how to create young readers who enjoy this activity. There is one session per month for different ages, according to the needs and characteristics of each age at which the child and the adult enjoy the special time of reading together.


Family Cinema
One Sunday a month there is a projection of a film appropriated for the enjoyment of the whole family.
A Tale 2.0
Another way to tell: new technologies and traditional stories come together for children to experience reading in a digital environment with electronic blackboards and books.

Pedagogic Backpacks
We offer families a pack with a selection of documents (books, DVD's, CD's), for families to enjoy together.
Alcobendas in diapers: from 0 to 36 months
Storytelling for children aged 0-36 months that are usually performed on the last Friday and Saturday of each month (except January, July and August).

This program complements the work done with the municipal nursery schools, in a multidisciplinary working group. This working group brings together the knowledge of reading and psychosocial promotion in early childhood.